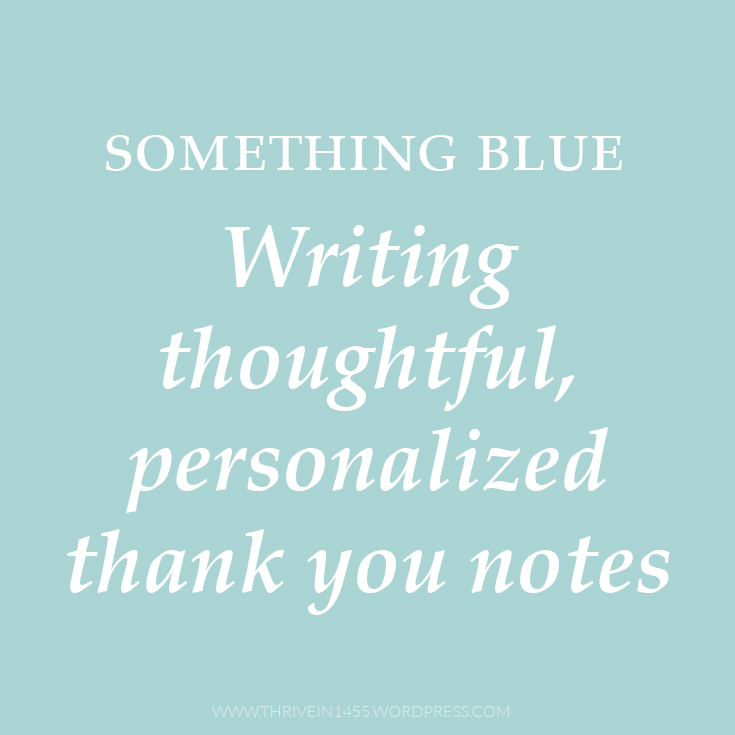 I DID IT! I am finally done writing all of the thank you notes from our wedding! I thought this day would never come, and it probably wouldn't have if I hadn't told myself that I couldn't post this Something Blue tutorial until they were all mailed. Any of you fellow bloggers out there know how disruptive it can be to change posts around when they've been scheduled for a while.
Writing thank you notes is one of those things that you can't admit is a huge pain in the butt. People came to your wedding and got you a nice gift, and you're going to complain about having to write them a little note to convey your appreciation? Not exactly the most gracious thing in the world. But believe me, I totally get it. It's time-consuming, and you have to get them out fairly quickly. According to The Knot, it is expected that you'll turn them around within a month of your return from your honeymoon, so technically I'm a little behind. Oops…
To send a helping hand your way, I've created this free printable (my very first!), and to make it more fun than it has any right to be, I've written it Mad Libs-style. So if you're writing a real note to your cousin thanking her for her contribution to your china cabinet, it'll look like this.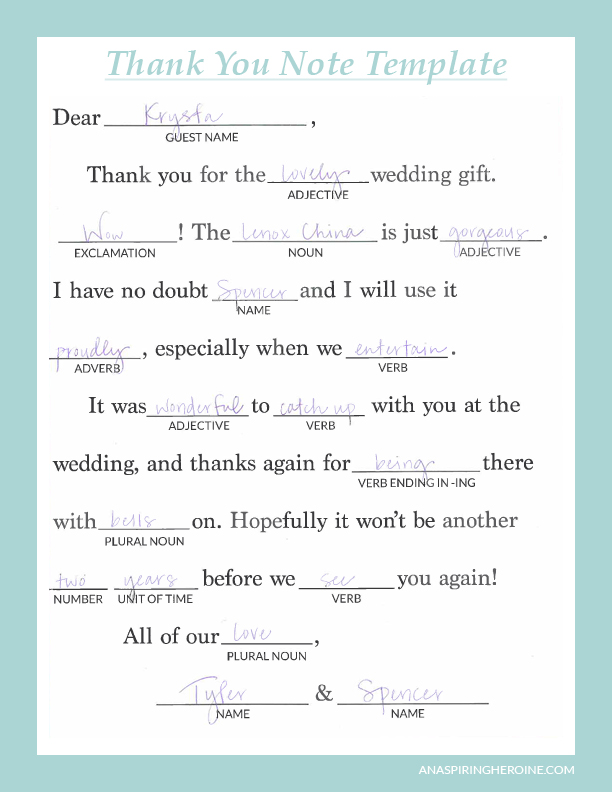 Or if you're feeling super silly in between batches of real thank yous, it'll go a little something like this. (My sister, Parker, helped me with the words for this one!)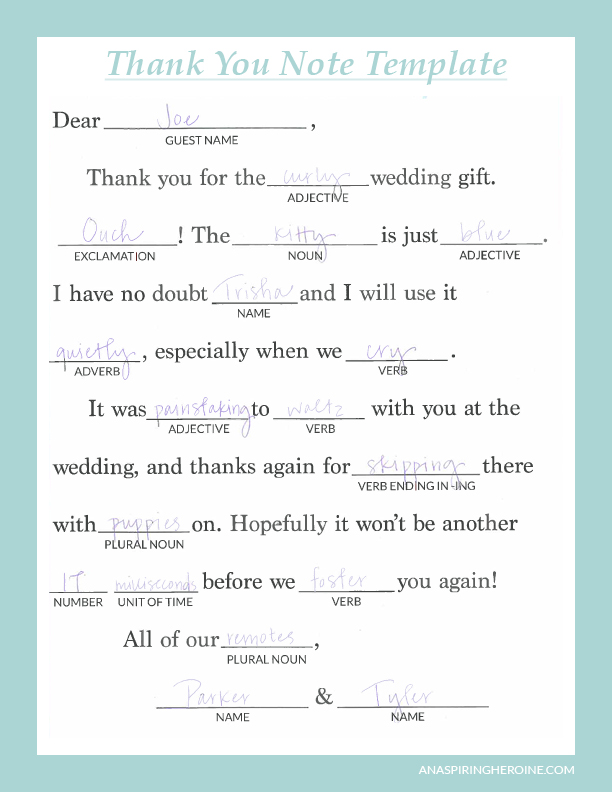 Now this isn't exactly what I used for every single one of the thank you notes, but I did like to include a few different elements to each one: 1) thank them for the specific gift, 2) say how you'll use it, 3) bring up something specific involving them from the wedding, and 4) finish with a line about when you'll see them next. Having all of these boxes checked made it feel like I was giving each person/family a personalized thank you instead of your run-of-the-mill "thanks for the gift" note.
One last thing to say about thank you notes: organization is key! The last thing you want is to forget who gave you the cast iron skillet or have trouble remembering whether you already sent a card to your grandmother. I touched on Wedding Wire a bit in my post about wedding websites, but I have to say that its gift function is fantastic. You can easily keep track of who gave you a gift, when it arrived, what it was, and when you sent out the thank you note. There's also a notes section, which is great for when families go in on big gifts together, but you still have to send an individual note to each person.
I hope these thoughts are helpful, and just remember that you can do it. That huge list will be only a few families long in no time!
Did you struggle with writing unique thank you notes for each family? How long did it take you to finally get them out to your guests?